The exact date of the start is dictated by when Ibi is completed. There will be a few more days finding a weather window to make the trip to Michigan to pick her up, then getting the RV loaded and checked out, then we'll be off. There may be some time needed to rig or outfit the boat, and I had hoped to make a few small trips to get used to the handling of the new boat. It looks like that will have to be on-the-job-training. I had hoped to have been in Florida for a month or two by now. Such a late start will make it unlikely that we'll get all the way around the peninsula before the weather becomes stiflingly hot. The ideal would have been to have completed the circumnavigation and be in Georgia by the first of May to follow the warming north. It is estimated that four months should be allowed for the trip. This comes to an average of 12.6 miles/day if done non-stop, but you also have to allow an average of one day a week for the possibility of being weather-bound. This comes to 14.6 miles/day, which still doesn't sound bad except that laundry, provisioning, sore muscle or injury days, time to repair gear breakage, or even sightseeing almost never coincide with weather days. In any trip, the challenge is the first day. Once a start is made, then it's just dealing with the daily reality.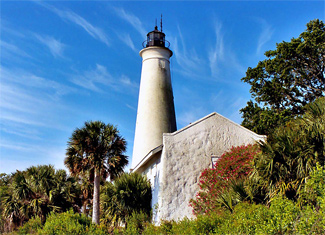 Credit: lighthousefriends.com

St. Marks Lighthouse


Paul, from South Georgia, is planning on paddling with me as he jumps in and out for a day at a time at different places along the way. Once I get to the St. Mark/Aucilla Rivers area, off Apalachee Bay, I'll be in his home waters and have a chance to share the advantages of his local knowledge. He has already pointed out a couple popular eateries that should enable us all to enjoy some great local cuisine.
We also have a few more irons in the fire that we'll work into the trip, and we'll just have to make them work as we go along. To say I'm chomping at the bit would be a gross understatement. For right now, however, I need to go shovel the snow that fell over night. I haven't checked it yet, but measurements taken from areas around us put the accumulation at 12-18 inches.