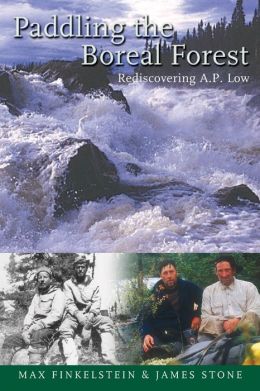 Illus.credit: barnesandnoble
Paddling the Boreal Forest: Rediscovering A.P. Low, by Max Finkelstein and James Stone. (Pub. by Natural Heritage/Natural History Inc., Toronto, Ont., 2004, 253pp of text, and 319pp with appendices and index.) Site:
www.naturalheritagebooks.com

If you ask someone about Albert Peter Low, you'll most likely be met with blank stares. In both life and history, he has been known only as A.P. Low. All of his writings, journals, reports, and maps, all were identified with A.P. Low. Low was the man that brought Quebec, Labrador and the rest of NE Canada to the world. As the explorer and surveyor, and later the director of the Canadian Geological Survey, he claimed new territories for Canada and mapped and described them. Verlen Kruger is the only other person that comes to mind for such accomplishments in a canoe. Between 1881 and 1899, Low spent over 2,500 days traveling by canoe and snowshoes, documenting the features of more than 200,000 square miles. He documented the cultures of Aboriginals that had lived there for thousands of years, and spent 3,728 days (more than ten years) away from home in a 24 year career.

Low left us little about his adventures. He lived in the day when the canoe was a tool, not a recreational vehicle. The canoe was how families moved about to follow migratory herds, how they hunted and fished, how they moved supplies into the wilderness, and how they moved furs out. For Low, the canoe transported him to find rivers, lakes, branches, mineral deposits, and reduce them to reliable maps and reports. The goal of our two authors was to follow and duplicate some of Low's trips, and by their experience, tell their adventures and Low's simultaneously. In their part of the world, except for what is destroyed by forest fires, little changes in hundreds of year.



Part of the appreciation of Low and his accomplishments is getting a glimpse of his Herculean determination and perseverence. At one point he had to use a sailing fishing boat for mapping. It was 28 feet long and weighed between one and two tons, and was capable of carrying two tons of provisions, two canoes, and six men. Like his canoe, this sailboat also had to be portaged across land---on rollers---through bog, rugged rocky topography, impenetrable forest, with the men being almost always soaked from continual rain. When the authors went to research Low's field notes, century-old dried corpses of black flies fell from between the pages. In 1888, while doing the Big and Clearwater Rivers alone, Low performed 184 portages with all the boats, supplies, and surveying equipment. When there weren't flies, they often endured temperatures between 51 and 101 degrees below zero. If nothing else, these accounts will help keep what you are experiencing on your next canoe trip in proper perspective.